So I was cruisin' my regular blogs and on one of my
favorite blogs
I could not resist checking out soap porn.  I'm an addict, I admit.  I love soap, I love my soap, I love making soap, I love looking at other people's soap, I love using other people's soap, I love sniffing other handmade soap, I love everything about handmade soap.  Now that that's out of the way, one of the pictures in the soap porn had me dumbfounded.  Soap carvings.  If I thought I had problems with some people not wanting to use my soap because it's "too pretty to use", I can only imagine that these peeps will never get anyone to use their soap.  Here's why: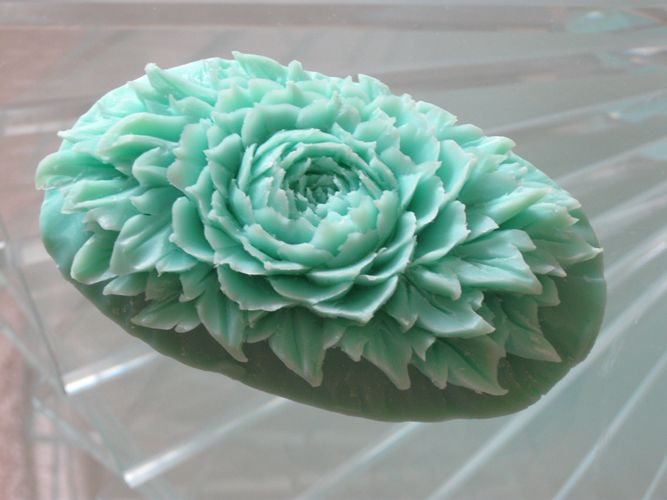 I'm sure you'll want to check out the rest
here
.
Also, in my "morning" computer routine, I clicked on etsy and low and behold there's my
Healing Waters Spa Bar
in a treasury right there on the front page!  Woo Hoo!  I took a web archive of it, but it doesn't save in jpeg format, so I don't think it'll post, but I'm about to try.
Also, I'm working on a couple of projects and have been using a Ginger Lime fragrance and am absolutely in love with it.  I made another Chocolate Raspberry Soap Torte, but I did the regular cold process for the bottom and whipped soap for the top.  Normally I think this would've worked out quite fine, however I made the layers on different days and now the top doesn't stick to the bottom.  It's beautiful but very delicate.  Pictures coming soon....